About Our Client
North Middle School is located in Everett, Washington—a city that values sustainability, preservation, and community building.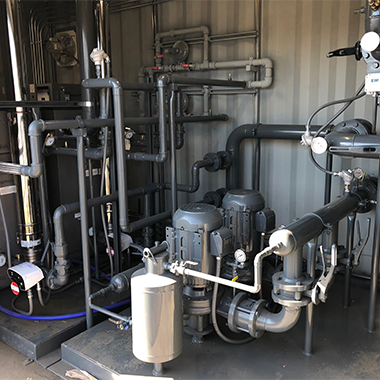 School Modernization: Where to Start?
When we saw the modernization plans for the North Middle School campus—the first in a series of district-wide school renovations—we were impressed! The new campus will include a brand-new, two-story building with thirty classrooms, a larger parking lot and updates to the cafeteria, the gym and to the track and field. The district wanted to find the best way to make this renovation as cost-efficient and eco-conscious as possible without displacing students and staff—that's where CHC and the folks at Flowtherm came in.
Re-use and reduce: A sustainable solution for Everett School District
FlowTherm's engineering team designed a high-efficiency, fully portable and pre-assembled heating and cooling system, capable of meeting the heating and cooling demands of a wide range of conditions.­ The entire system was assembled inside a shipping container and transported from FlowTherm Systems' manufacturing site in Hayward, California. When the package arrived in Everett, it was ready to start up with minimal installation requirements.
The Benefits of a Self-Contained Package
Like many modernization projects, The North Middle School modernization happened in phases. The previous heating and cooling equipment was located in a portion of the school campus that would be demolished to make room for the new building. FlowTherm's package was installed and used as a central plant, servicing each portion of the school that was effected by this demolition.
The beauty of using a self-contained, portable package is that it can be moved and re-installed at other school sites. This means that The Everett School District can re-use their heating and cooling package at all of their upcoming modernizations, which saves time, materials, and cost—a huge plus for this sustainability-focused district!
Want to see more projects?